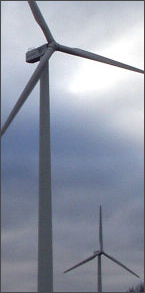 DIRECTORS AND MANAGEMENT
Vincent Barletta

Co-founder and Director
As a co-founding member, Mr. Barletta lends his expertise in project and business management to Caletta Renewable Energy. Since assuming command as the President and Treasurer of Barletta Engineering Corporation and Barletta Heavy Division which is a fourth generation construction company, Mr. Barletta has directed its strong growth and expansion. The Company bids both public and private work and has completed projects with agencies such as the Massachusetts Highway Department and Central Artery/Tunnel Project, the Massachusetts Water Resources Authority and Boston Harbor Project, the Massachusetts Bay Transportation Authority, the Massachusetts Port Authority, the Boston Redevelopment Authority, the New Hampshire Department of Transportation, the Manchester Airport Authority, and various municipalities and private clients.
Mr. Barletta was Instrumental in the founding and growth of Whirlwind Capital which is the real estate development arm of the Barletta Companies, to its present worth with over $60M in real estate and equipment holdings. Mr. Barletta holds a Bachelors Degree in Management from Northeastern University

David Callahan

Co-founder and Director
As Director, Mr. Callahan is co-head of business activities, including portfolio asset development, acquisition and management. With over 25 years management experience in the heavy construction industry, Mr. Callahan also serves as Chairman of the Palmer Paving Corporation and Callahan Holdings which is a diversified investment firm. Mr. Callahan's leadership in the family owned heavy highway construction firm has resulted in its strong growth and expansion in the public and private sectors. Significant completed projects include work with the Massachusetts Highway Department, Massachusetts Turnpike Authority, Army Corps of Engineers, various municipalities and private clients throughout Western Massachusetts, North Central and Northeastern Connecticut. Throughout his professional career, Mr. Callahan has held leadership and executive board positions in industry-related trade associations including the Chairman's position for the Construction Industries of Massachusetts (CIM) and the Massachusetts Asphalt and Aggregate Producers Association (MAAPA) as well as the State Director (MA) at the National Asphalt Pavement Association (NAPA). Mr. Callahan completed course study at the University of Massachusetts in Amherst and is a graduate of the Harvard Business School Owner/President Management Program.

Victor E. Gatto, Jr. Ed. D.

Founder, Principal and Chief Operating Officer
As a founding member, Dr. Gatto serves as the leader and the catalyst for business development for Caletta Renewable Energy. Prior to joining Caletta in August, 2004, Dr. Gatto spent seven years developing the key business sector for an environmental company, Molten Metal Technology, Inc. ("MMT"). Under his leadership, the Government and Nuclear Sector of MMT produced more than $140 million dollars in revenue (99% of MMT's non-interest business revenue for the years 1992-1996), and the sector grew from one person to more than 200 employees in five years. He secured over $30 million in research and development support and then created two key strategic partnerships for the technology rollout, a $70 million joint venture with Westinghouse and a $90 million partnership with Lockheed Martin Corporation.
Prior to his tenure with MMT, Dr. Gatto worked in Massachusetts State politics and for 25 years was actively involved in education and athletics and coached football at three colleges and played administrative and academic roles at each school as well. Dr. Gatto holds undergraduate, graduate and doctorate degrees from Harvard University.

Ned Popovic

Vice President of Engineering and Development
Mr. Popovic joined Caletta Renewable Energy, LLC, as Vice President of Engineering and Development at the company's inception. He is a knowledgeable and successful executive in the field of energy and environment and is a well-versed and recognized domestic and international project manager. He has managed several lump sum construction projects as owner/developer for domestic and international markets, including the World Bank.
Mr. Popovic served as Vice President of Engineering for Global Resources Industrial and Power Inc. (GRIP), a construction and development company involved in advanced power technologies, including all aspects of renewable energy. At GRIP he developed and implemented technical and business concepts to provide renewable energy solutions to the industrial and institutional markets in North America. Mr. Popovic also served in various managerial and technical roles at Ebasco Services and Burns and Roe Enterprises. Both companies specialize in power engineering and construction.
Mr. Popovic holds a Bachelors Degree in Mechanical Engineering from City College of New York (CCNY), a Masters Degree in Engineering from CCNY and an MBA from Dickinson University.

Frank Fitzgerald

General Counsel
As a practicing attorney, Mr. Fitzgerald is a member of the Massachusetts Bar Association and is admitted to practice before the United States District Court for the District of Massachusetts. As principal of the firm he found, Frank P. Fitzgerald, P.C. in 1992, he is a member of a team that provides legal services to businesses and individuals, with emphasis on providing counsel to owners and managers of business entities. Mr. Fitzgerald received his BS BA from Western New England College in 1968. He also earned his Juris Doctor, Cum Laude, in 1973 from Western New England College School of Law.

Ron Bucchi

Financial Advisor
As financial advisor for Caletta Renewable Energy, Mr. Bucchi provides strong executive experience and counsel with a proven and highly successful financial career spanning public accounting and industry. Currently Acting Chief Financial Officer for Palmer Paving, Mr. Bucchi oversees strategic planning; banking relationships, surety relationships, tax planning, and financial statement review, and the management of employees and special projects. Mr. Bucchi is a certified CPA and holds a Bachelors Degree in Accounting from Central Connecticut State University.